Fresh and Interesting
Blogs are an excellent way to engage and help patients. They also are a easy way to keep your website content fresh.
A blog (originally from the term web log) is basically an online journal, or a vehicle to share your knowledge and thoughts to your audience.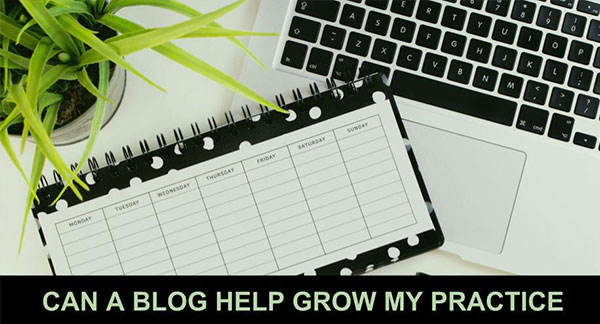 Content Marketing for Healthcare
Today, more and more healthcare professionals have blogs, and there are good reasons for that. Google loves content and if a blog helps patients by answering their questions, your content will keep on attracting more visitors and patients.
How Can Your Grow Your Practice with a Blog
So as a healthcare professional, how can you utilize a blog to grow your practice?
Build a Connection
You can make your blog personal or keep it professional. Either way, having a blog makes you more than a doctor – It makes you human, well-rounded, and relatable.
Patients are always looking for information about symptoms, conditions or their illnesses. When you provide useful answers, patients will start to trust you, follow you,share your information and even talk about you.
Share Your Knowledge
Blogs allow you to share your thoughts, views and knowledge about your specialty with the public.
Drive Traffic to your Website
Search engines like Google value sites that have unique, quality content.
Regularly posting blog content that contains meaningful and engaging information can help push your website further up in search rankings.
This makes your site and your practice even more visible to potential patients who are searching the web.
Post Your Content on Social Media
Talk to people where they live.
Anything you post on your blog should also be shared through all your content channels.
So a great piece of content should not only be on your Blog but also distributed on Facebook, Twitter, Google+, YouTube, Pinterest, etc and help drive patients to your website.
Make it a Video
A video blog, or vlog, is when you share information in a video format instead of text.
Like a written blog, your video will be visible to public and they can rate, comment and share your videos.
Recent research has shown that videos are more watched, enjoyed and shared than the text content. This makes sense as most people prefer watching rather than reading.
You can use free services like YouTube, Facebook or Vimeo to host your videos.
Connect
Connecting with your audience is important for your many practices. Posting consistently in a blog is a great way to educate your audience, share your thoughts and build that connection.
Call us on 1300 880 230 to hear more and how we can help